Classic Entries
2004 Porsche 996
C4S Cabriolet
1993 Ferrari 348
GT Berlinetta
2003 Benelli
Tornado Tre 900
Recently Sold
1953 Delahaye 235 MS
Coupé Chapron
1967 Fiat Dino
2000 Spider
1989 Bimota YB6
EXUP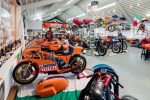 Laverda Motorcycles
Museum Collection
Classic Car Import from the USA and other overseas countries
When importing a car from overseas countries such as the USA, Japan, Australia, etc. to the European Union, you will normally have to pay 10% customs duty plus your local VAT on the amount stated in the sales contract.
In some European countries however, special rules apply to vintage vehicles. In the United Kingdom you only have to pay 5% on the billed amount on cars older than 25 years, and in France 5,5% for cars older than 30 years. We therefor advice you to register the car in the name of a private party in the UK or France, from which you would then officially purchase it without any additional cost.
This procedure is entirely legal, since it is based on European legislation. And by the way, this is the standard routine that international auction houses like Coys, Bonhams, Christies or RM auctions apply.
Classic Car Import from Switzerland or Norway (EFTA countries)
When importing a car from Switzerland to the European Union, the general 10% customs duty won't apply. You don't pay any customs duties under condition that the purchased vehicle was built in one off the member states of the European Union. For this you have to provide a Movement Certificate EUR.1, which you can obtain at a Swiss customs office, in order to prove the origin of the car.
In consequence, everything you have to pay is the VAT in your country, according to the billed amount.