Cor Dees - Laverda Motorcycle Collection
Entire Museum with 81 Motorcycles & Prototypes
Assorted motorabilia, collectibles and artifacts
for Sale as ONE lot only, see Text
The entire Museum Collection of Laverda motorcycles and collectibles from renowed collector and marque specialist Cor Dees is offered for sale.
The collection features 81 motorcycles, scooters and mopeds and covers the complete history of Moto Laverda from 1950 to 2000. All machines and Laverda motorabilia, which are housed in his family Museum, will be sold as ONE lot.
Dees dedication to the Laverda marque has evolved in a second to none display of this North-Italian motorcycle brand. He collected everything related, even artifacts and old machinery showing the agricultural roots of Laverda.
Due to his close friendship with the Laverda family he was able to purchase many of the bikes and associated memorablia directly from the factory. He collected the bikes he liked, and those bikes are significant in the history of Laverda.
For instance, there's one of the first production Laverda's, a 75 Turismo built in 1950 (est. € 12,000) or Massimo Laverda's personal 1951 Laverda 75 Turismo which he graciously donated to the museum (est. € 5,500).
There's also an early example of a first batch Laverda 650 from May 1968 which formed the basis for the highly succesful Laverda 750 range (est. € 16,000) and the 1971 Milano EICMA Motorshow Laverda 1000 3C Prototipo (est. € 45,000).
The Laverda Museum Collection also comprises 12 historic racing motorcycles from the celebrated Italian manufacturer. From the factory's 1970s heydays as well as a selection of Milano-Taranto and Motogiro works racers from the 50's.
Highlights include the one of three remaining 1975 ex-Brettoni, Gallina, Fougeray and Lucchinelli 1000 spaceframe works endurance racers (est. € 135,000) and the ex-Marcello Danna 1954 Motogiro d'Italia Corsa 75 (est. € 9,000).
The collection also houses the ex-Franz Laimböck purpose-built 1975 Laverda 1200 monocoque special (est. € 25,000), the 1975 Laverda 750 SFC that won the 1976 Belgium Championship (est. € 48,000) and the 1987 prototype 125cc Grand Prix Racer driven by Allesandro Gramigni (est. € 35,000).
Really unique is the Laverda 750 sidecar outfit, fitted with a SFC works engine tuned to side-car race specifications, and finishing second in the Italian championship (est. € 45,000).
Also forming part of the collection are several small displacement bikes, scooters and mopeds as well as enduro, cross and off-road machinery. Zanè factory built bikes are also included as well as the Cruiser, Hidalgo and El Cid prototypes.
Due to Mr. Dees extensive knowledge and experience in mechanical engineering and great attention to detail, all motorbikes are in original, mint or near mint condition or professionally restored to a very high standard.
Only the 75 Moto-Giro, 100 ISDT, 8000 Batch SFC, two 750's and a triple need a complete restoration, thus will be sold as is in their present condition.
The museum is a treasure in its own right, with a documented summary of the history and highlights of Moto Laverda in words and photographs, original race leathers worn by Augusto Brettoni and Roberto Gallina and personal belongings of several other works riders.
Cutaway engines of the 500 twin and 1000 triple as well as countless manuals, sales brochures, parts catalogues, leaflets, letters, photographs, posters and other interesting Laverda material are all part of the collection.
Even the original Laverda entrance sign of the old Breganze factory made out of marble will be included in the sale. This 400 kg and 4 m long ornament decorated the Laverda works between 1952 and 2000, until the building was demolished.
This is a life-time opportunity, and probably the last and only possibility, to acquire the most important collection of Laverda motorcycles, prototypes and assorted memorabilia in existence worldwide. 300+ square meters of motorcycle heritage.
Dees passion for Laverda motorcycles was originally inspired by a Laverda at the 1973 Dutch TT. Now, after thirty years of collecting, he feels that it's finally time to hand over the keys, a decision sadly provoked by long-term health issues.
Though the complete collection is for sale, Mr. Dees will keep the most significant specimen of Laverda engineering: the legendary Laverda V6. After eight years of determination he has almost completed the 1991 V6 racer in 24-hour endurance race trim.
In the mean time Dees also continues working on the original 90-degree 1000cc Vee-Six prototype which caused a sensation during its presentation at the 1977 Milano Motorcycle Exhibition.
Once these two of three existing Laverda 1000 V-Six machines come up for sale, the new owner of the collection will be given the Right of First Offer to purchase both machines, the remaining factory V6 spares and technical drawings.
Every one of the 81 bikes offered for sale will definitely fetch much more when sold separately, but Dees is eager to see his collection being enjoyed by others. He wants his museum to continue as a permanent arrangement and prefers the collection to be:
included in a Museum, or exposed as part of a larger display or collection of motorcycles, motoring history or a transport related theme.
based in Breganze or the region, Italy, Europe or a country with an important Laverda community.
open to the public and able to be admired on a regular basis by visitors from across the world.
Hence, the sales price highly depends on the future of the collection and the intentions of the prospective owner. Mr. Dees is ready to sell his collection at a very reasonable price if the next owner is a real enthusiast and willing to exhibit the collection for the next decades. We therefore advice prospective owners to send us a detailed proposal outlining their ideas regarding the collection.
The Museum opened its doors in 2006 during an event enjoyed by more then 330 enthusiasts from all over the world including Piero and Giovanni Laverda as well as factory racing drivers Augusto Brettoni, Roberto Gallina, Nino Castellani, Fernando Cappellotto, Edoardo Dossena and many former Moto-Laverda employees.
The collection is well-known and attracts a lot of interest from both motorcycle enthusiasts and collectors as well as people from all over the world with a passion for heritage, culture, transport and design.
Journalists of world's leading magazines have written numerous articles regarding the Museum and the collection has been beautifully pictured by renowned photographer Phil Aynsley, as can be seen on the right side of this page.
This is an opportunity not to be missed to secure the most extensive collection of Laverdas and related collectibles in the world. More detailed information is available upon serious request.
We are looking forward to receiving your offer with a clear proposal at:

Further background information on Cor Dees and his Laverda collection can be found on his Laverda museum website.
The Laverda Motorcycle Collection
Laverda Racing
1952 Laverda 75 Mi-Ta
works racer - sandcast engine
1954 Laverda 75 Moto-Giro
Marcello Danna - 1954 Motogiro d'Italia
1955 Laverda 100 ISDT
Six-Days - to be restored
1956 Laverda 100 Mi-Ta
Milano Taranto replica
1972 Laverda 750 SFC
8000 batch - Ceriani 4LS - to be restored
1973 Laverda 750 Side
sidecar racer - factory SFC engine
1975 Laverda 750 SFC
1976 Belgium Champion
1975 Laverda 1000
spaceframe works endurance racer
1975 Laverda 1200
Franz Laimböck Monocoque racer
1978 Laverda 500 Formula
Mk2 - one of 75 - Laverda Cup
1982 Laverda 125 Cup
one of 80 - Laverda Cup
1987 Laverda 125 GP
only existing machine
Laverda Prototypes
1971 Laverda 1000
Milano EICMA motorshow - prototype
1980 Laverda OR 500 Atlas
prototype
1986 Laverda OR 600 Atlas
prototype
1986 Laverda 668 Cruiser
prototype
1989 Laverda 668 Hidalgo
prototype
1989 Laverda 700 El Cid
prototype
Laverda 75
1950 Laverda 75 Turismo
one of the very first Laverdas
1951 Laverda 75 Turismo
ex Massimo Laverda
1952 Laverda 75 Tarantina
1953 Laverda 75 Normale
Laverda 100
1955 Laverda 100 GT
1955 Laverda 100 Sport
1956 Laverda 100 Sport
1958 Laverda 100 GT
1958 Laverda 100 Sport Lusso
Laverda 49, Laverdino & Scooter
1958 Laverda 49 4T Sport
1958 Laverda 49 4T Turismo
1959 Laverda 49 Scooter
production number 17
1961 Laverda 49 Scooter
1962 Laverda 59 Scooter
new - 188 miles only
1963 Laverda 49 Scooter
1963 Laverda 49 Scooter
1966 Laverda 49 2T Moped
1966 Laverda 49 2T Moped
Laverda 200
1963 Laverda 200
first production year
1971 Laverda 200
last production Laverda 200
Laverda 125
1966 Laverda 125 America
1966 Laverda 125 Sport
1966 Laverda 125 Trial
new - 12 km only
Laverda 650 & 750
1968 Laverda 650
production number 17 - May 1968
1970 Laverda 750 S
to be restored
1971 Laverda 750 SF
1972 Laverda 750 SF
1973 Laverda 750 GTF
1973 Laverda 750 SF1
1974 Laverda 750 Polizia
Allessandria police
1974 Laverda 750 SF2
1977 Laverda 750 SF3
to be restored
Laverda 1000 & 1200
1974 Laverda 1000 3C
1977 Laverda 1000 3CL
1977 Laverda 1200
to be restored
1980 Laverda 1000 Jota 180
1981 Laverda 1000 RGS
Executive panniers & fairing
1982 Laverda 1000 Jota 120
1982 Laverda 1200 TS
1983 Laverda 1000 RGA
1989 Laverda 1000 SFC
wire wheels - 2000 km
Laverda Enduro & Cross
1974 Laverda 250 2T Chott
1974 Laverda 250 2TR
1978 Laverda 250 LH4
1982 Laverda 125 LH3
Laverda 350 & 500
1978 Laverda 500
1980 Laverda 500 Montjuic
Mk2
1980 Laverda 350
Laverda 125
1978 Laverda 125 LZ
1983 Laverda 125 Sabbia
NOS
1983 Laverda 125 LB Sport
1984 Laverda 125 LB1
1985 Laverda 125 Navarro
one of approx 20 - NOS
1988 Laverda 125 Custom
1989 Laverda 125 Toledo
300 km only
1991 Laverda 125 Lesmo
140 km only
Laverda Mopeds
1983 Laverda 50 Pippo
1985 Laverda OR 50 Atlas
1989 Laverda 50 Gaucho
NOS
Laverda Offroad
1987 Laverda OR 600 Atlas
Laverda Zanè production
1995 Laverda 650 I.E.
1997 Laverda 668 Diamante
1999 Laverda 750 Formula
The Laverda Museum opening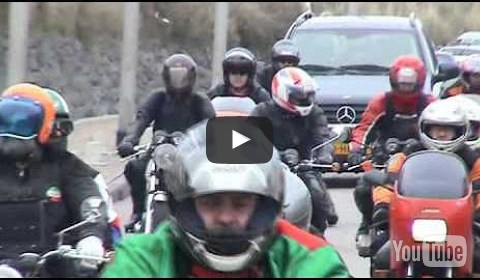 Photo credit: Phil Aynsley Photography
Video credit: Icke Selba