Classic & Collector Cars on offer by Private Treaty
We specialize in discrete, private transactions. Most of the cars we sell are not publicized, or even listed prior to sale. Contact Us if you are serious about owning a fine classic or sports car.
We have very qualified clients who've asked us to handle the sale of their motorcar via our private sales service. Further information available on request.
| | |
| --- | --- |
| Bentley | 4½ Liter Le Mans |
| Bugatti | Type 57 DHC |
| Face Vega | Facellia |
| Ferrari | 275 GTB/6 Alloy |
| Talbot-Lago | T26 Record Cabriolet |
Contact us for more information
1972 AMS Lamborghini Miura V12 Prototipo Racecar
1972 AMS Lamborghini Miura V12 Prototipo Racecar
The AMS with V12 Lamborghini Miura engine was a one-off prototype built in 1972 for an American Gentleman who was planning to participate into European Sportscar racing. We are looking for all information available on this unique prototype.
We are in direct contact with the initiator of the project in 1972 as well as the current owner. In order to verify its history and to trace some missing parts we require the following information:
Owner history from 1973 till 1978
Articles (all languages)
Engine Number
Images
Contact us for more information
Bimota; Tamburini, the Michelangelo of Motorcycle design
Massimo Tamburini with his 1971 MV Agusta 600 Bimota special
Bimota motorcycles was born by accident, though for superbike enthusiasts the accident was a surprisingly happy event.
In 1966, Valerio Bianchi, Giuseppe Morri and Massimo Tamburini establised Idrotermica Bimota, a heating business in the town of Rimini, on the Adriatic coast, an area of Italy which had long been a center for both racing and motorcycle manufacture.
Tamburini's passion however, was motorcycle design and Massimo modified several local riders' machines to make them faster, lighter and handle better. His efforts were rewarded with success, and before long his work on one particular bike, the MV Agusta 600 four, had gained the admiration of the entire Italian biking fraternity.
Yet, it was an event in the summer of 1972 which was the key to the birth of Bimota; a routine test session at the Misano circuit where Tamburini, his friend Giuseppe Morri and racer Luigi Anelli were testing a Honda CB750. Massimo crashed his Honda Four which left him with three broken ribs.
Maserati; il Tridente di Bologna
Maserati Tipo 60 Birdcage Carrozzeria Allegretti & Gentilini with Fantuzzi, Moss, Alfieri & Bertocchi - Modena 12 May 1959
There were once six brothers in Italy who were artists. Their name was Maserati. One, Mario, worked with paints and canvas. The others made things out of metal.
Fine things with fine engines in them that won races and the respect of all men who admire artistry no matter what form it may take.
Of the five mechanically inclined brothers - Carlo, Bindo, Alfieri, Ettore, and Ernesto - three are still making cars as though they were making watches.
Bindo, Ernesto, and Ettore, however, no longer make the car that bears the family name. They work in Bologna in their hospital-clean, uncluttered shop, building a car called the O.S.C.A., which stands for Officine Specializzate Costruzioni Automobili.
Classic Car Brokerage; we act on your behalf
We buy, sell, broker, locate, consign and appraise exceptional classic, sports and collector cars, arrange transport, customs formalities and registration.
Jaguar, Ferrari and Maserati expertise, though our collection includes a wide variety of other superior motor cars.
Contact us when you are serious about owning or selling a fine classic car. Geneva, Switzerland-based, we serve clients world-wide.
Sold: Cor Dees - Museum Collection of Laverda Motorcycles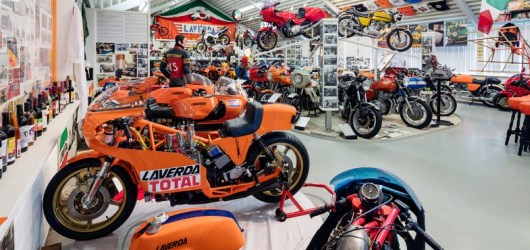 Cor Dees - Museum Collection of Laverda Motorcycles
The entire Museum Collection of Laverda motorcycles and collectibles from renowed collector and marque specialist Cor Dees is now sold.
The collection features 81 motorcycles, scooters and mopeds and covers the complete history of Moto Laverda from 1950 to 2000.
Dees dedication to the Laverda marque has evolved in a second to none display of this North-Italian motorcycle brand. He collected everything related, even artifacts and old machinery showing the agricultural roots of Laverda.
Due to his close friendship with the Laverda family he was able to purchase many of the bikes and associated memorablia directly from the factory. He collected the bikes he liked, and those bikes are significant in the history of Laverda.
Cor Dees - Museum Collection of Laverda Motorcycles
Classic & Collector Cars wanted
We have very qualified clients who've asked us to find the following diverse car. Please advise if you can offer any of these cars.
| | |
| --- | --- |
| Ferrari | 365 GTB/4 Daytona Non plexi |
| Lamborghini | Miura Engine only |
Here you will find the complete list of cars we are looking for.
Naturally, we would pay you finders-fee upon successful closure of a deal.