Classic Entries
1991 Maserati
Shamal
1999 Isdera
Commendatore 112i
1956 Aero Caproni
Capriolo 75 Corsa
Automobiles
Voisin 1919-1958
1924 Bugatti Type 35
by J-P Fontenelle
Recently Sold
2000 Maserati
3200 GT
Lamborghini
Miura SV
Classic Car Brokerage; we act on your behalf
We buy, sell, broker, locate, consign and appraise exceptional classic, sports and collector cars, arrange transport, customs formalities and registration.
Jaguar, Ferrari and Maserati expertise, though our collection includes a wide variety of other superior motor cars.
Contact us when you are serious about owning or selling a fine classic car. Geneva, Switzerland-based, we serve clients world-wide.
Classic & Collector Car Investment
Record-breaking auctions may dominate the classic car headlines, but you don't need to spend millions to build a collection. Classic cars with investment potential come in all shapes and sizes.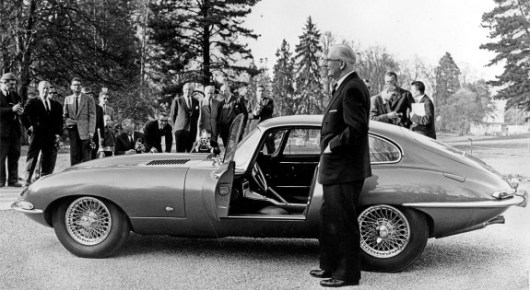 Sir William Lyons together with his finest creation: "the E-Type Jaguar"
Collect cars because you love them. Definitely do research and select cars that you think are undervalued or about to become popular, and always buy something that you want to drive and that will make you happy.
On the other hand, keep in mind that investments always mean risks and the classic car market is not different.
Over the last 10 years, prices of collector cars have skyrocketed more than 400 percent, with record-sales at last months' Osenat's - la Gombe Collection - and RM Sotheby's - Duemila Ruote - auctions.
That said, trends of the - VIA THEMA 500 - classic & collector car index show that the classic car market is slowing down. Collectors are focusing more on provenance, rarity and condition of automobiles.
We also simply don't believe that an older Ferrari, Jaguar or Maserati is several times more valuable today than it was ten years ago.
Hence, with rising interest rates, we expect mass-produced classics to struggle to maintain their value with possible corrections of more then 20% over time.
But then, the happiest people in the hobby are the ones who buy what they like first and let the market worry about return on investment.
Classic & Collector Cars wanted
Here you will find the complete list of cars we are looking for.
Naturally, we would pay you finders-fee upon successful closure of a deal.