Ferrari Formula One on two wheels: Laverda 1000 V6 for Sale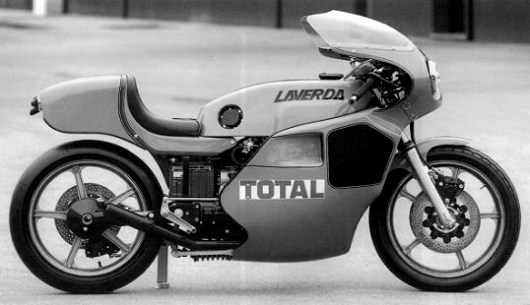 Laverda 1000 V6 to 1977 EICMA Milano Prototype Specifications
As with most experimental projects in the automotive and motorcycle industry, the original first complete Laverda 1000 V6 proto shown on the 1977 Milano EICMA exposition doesn't exist anymore in its original configuration.
The Milano proto evolved from a show motorcycle into the 1978 Bol d'Or racing machine. Over the course of a year it was transformed from mono to dual rear shocks, with extensive work being done to the headstock, new bodywork as well as numerous other modifications, but most importantly it received an upgraded engine and improved fuel supply.
The replaced engine from the Milano prototype however, was the first ever V6 Laverda powerplant which was brought into life on the testbench and was used for intensive testing. It even broke a conrod with patchwork to the enginecases still being visible. This engine was later used in the 1991 Zanini V6 dummy and today *1001* forms the bases of the V6 prototype rebuild to EICMA 1977 expo specifications.
Sold: Cor Dees - Museum Collection of Laverda Motorcycles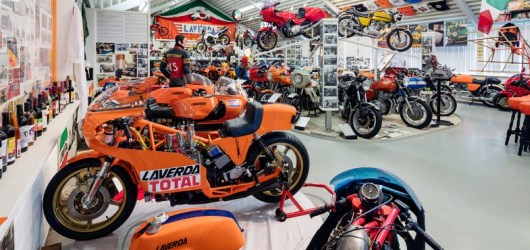 Cor Dees - Museum Collection of Laverda Motorcycles
The entire Museum Collection of Laverda motorcycles and collectibles from renowed collector and marque specialist Cor Dees is now sold.
The collection features 81 motorcycles, scooters and mopeds and covers the complete history of Moto Laverda from 1950 to 2000.
Dees dedication to the Laverda marque has evolved in a second to none display of this North-Italian motorcycle brand. He collected everything related, even artifacts and old machinery showing the agricultural roots of Laverda.
Due to his close friendship with the Laverda family he was able to purchase many of the bikes and associated memorablia directly from the factory. He collected the bikes he liked, and those bikes are significant in the history of Laverda.
Classic Car Brokerage; we act on your behalf
We buy, sell, broker, locate, consign and appraise exceptional classic, sports and collector cars, arrange transport, customs formalities and registration.
Jaguar, Ferrari and Maserati expertise, though our collection includes a wide variety of other superior motor cars.
Contact us when you are serious about owning or selling a fine classic car. Geneva, Switzerland-based, we serve clients world-wide.
Maserati; il Tridente di Bologna
Alfieri Maserati behind the wheel of a Tipo 26 at the 1926 Targa Florio
There were once six brothers in Italy who were artists. Their name was Maserati. One, Mario, worked with paints and canvas. The others made things out of metal.
Fine things with fine engines in them that won races and the respect of all men who admire artistry no matter what form it may take.
Of the five mechanically inclined brothers - Carlo, Bindo, Alfieri, Ettore, and Ernesto - three are still making cars as though they were making watches.
Bindo, Ernesto, and Ettore, however, no longer make the car that bears the family name. They work in Bologna in their hospital-clean, uncluttered shop, building a car called the O.S.C.A., which stands for Officine Specializzate Costruzioni Automobili.
Ford; The Universal Car
Henry Ford behind the wheel of the record breaking 999
The Model T is a legend. It created a long series of stories, jokes and in its day, even some broken arms. It gave the words flivver, jalopy, and tin lizzie permanent place in the American language and it "put America on wheels."
By now time has surrounded it with an aura of romance and nostalgia, but anyone who ever had to cajole, wrestle with, and drive a Model T will easily remember the cantankerous nature of the machine.
It was hard-riding, skittish, and susceptible to high fevers. To crank this car was an athletic ordeal, ending with a bone-wrenching backlash of the crank handle. The planetary transmission always had a mind of its own, and the Model T, even in neutral, trembled and strained at the leash.
But the T, changed the face of America and demonstrated to the industries of the world a practical method for mass production. As a by-product it educated an entire generation of backyard mechanics and tinkerers. The Model T was a do-it-yourself car and was quite logically the product of a do-it-yourself man.
Chevrolet; n'abandonnez jamais!
Louis Chevrolet behind the wheel of a Buick at the factory in Flint, Michigan
Though the car that bore his name became America's best-selling make in 1929, Louis-Joseph "Louis" Chevrolet had remarkably little to do with its success.
As an engineer with a taste for high quality, he was probably somewhat chagrined to be associated with such a low-cost, volume-production car.
Precision engineering was in his blood, since Louis Chevrolet, who was born on Christmas Day, 1878, was the second son of a Swiss watchmaker.
In the mid 1880s, the family emigrated from La Chaux-de-Fonds, in the Swiss canton of Neuchâtel, to Beaune, in the heart of the Burgundy wine-growing country in France.
Classic & Collector Cars wanted
Here you will find the complete list of cars we are looking for.
Naturally, we would pay you finders-fee upon successful closure of a deal.