Fiat; Fabbrica Italiana Automobili Torino
Giovanni Agnelli standing between an array of Fiat Models
Gianni Agnelli, Conte Biscaretti di Ruffia, Conte di Bricherasio, Avvocato Goria Gatti and Michele Ceriana, the Marquis Ferrero of Ventimiglia founded the Fabbrica Italiana Automobili Torino società per azioni - F.I.A.T on 11 July 1898. One year later, they bought the Ceirano GB & C factory including the patents of their highly succesfull - Welleyes - autocar designed by Aristide Facciolo.
Visionary Agnelli was a former cavalry officer. He was rich, and not without abilities both in business and engineering. He had the intelligence and the intuition to see that the future of the motor car in Italy, as elsewhere, was not tied to the luxury market, but to the mass production of a type of vehicle which would always be utilitarian while offering as much refinement as the fortunes of the people would allow.
Since talented engineer Facciolo was now on Fiat's payroll after the Ceirano takeover, he further developed his watercooled rear-mounted boxer-twin 3½ HP design into Fiat's first model with coachwork by Marcello Alessio of Turin. 24 cars were made from 1899 to 1900 and today at least four exist.
When the directors insisted that Faccioli should design a new model with the engine at the front instead of at the back, Faccioli resigned, and was replaced by Enrico, who in 1902 brought out a 1.2 litre four-cylinder model which was very similar to the recently introduced Mercedes.
Ferrari; il Cavallino Rampante
Enzo Ferrari with his highly succesfull 250 and 330 Serie Models
Just as an American youngster may want to be a baseball player or a movie star, his Italian counterpart may look to automobile racing or opera singing as the glamour professions.
The red blooded young Italian boy grows up dreaming of becoming another Tazio Nuvolari or Enrico Caruso. They were the heroes and each generation of boys has tried to follow in the footsteps of one or the other. Many succeeded, and Italian names appear regularly on racing programs and in opera casts.
But young Enzo Ferrari wanted to be both a race driver and an opera singer. This iron-willed youth followed these ambitions almost from the day of his birth in 1898.
His father, a music lover, was the proprietor of an ironworks and automobile shop in Modena, and Enzo heard the bass roar of engines as an infant in his cradle. The extraordinary voice of Enrico Caruso was a powerful influence, but so were the racing exploits of Nazarro and Lancia.
Bimota; Tamburini, the Michelangelo of Motorcycle design
Massimo Tamburini with his 1971 MV Agusta 600 Bimota special
Bimota motorcycles was born by accident, though for superbike enthusiasts the accident was a surprisingly happy event.
In 1966, Valerio Bianchi, Giuseppe Morri and Massimo Tamburini establised Idrotermica Bimota, a heating business in the town of Rimini, on the Adriatic coast, an area of Italy which had long been a center for both racing and motorcycle manufacture.
Tamburini's passion however, was motorcycle design and Massimo modified several local riders' machines to make them faster, lighter and handle better. His efforts were rewarded with success, and before long his work on one particular bike, the MV Agusta 600 four, had gained the admiration of the entire Italian biking fraternity.
Yet, it was an event in the summer of 1972 which was the key to the birth of Bimota; a routine test session at the Misano circuit where Tamburini, his friend Giuseppe Morri and racer Luigi Anelli were testing a Honda CB750. Massimo crashed his Honda Four which left him with three broken ribs.
Maserati; il Tridente di Bologna
Maserati Tipo 60 Birdcage Carrozzeria Allegretti & Gentilini with Fantuzzi, Moss, Alfieri & Bertocchi - Modena 12 May 1959
There were once six brothers in Italy who were artists. Their name was Maserati. One, Mario, worked with paints and canvas. The others made things out of metal.
Fine things with fine engines in them that won races and the respect of all men who admire artistry no matter what form it may take.
Of the five mechanically inclined brothers - Carlo, Bindo, Alfieri, Ettore, and Ernesto - three are still making cars as though they were making watches.
Bindo, Ernesto, and Ettore, however, no longer make the car that bears the family name. They work in Bologna in their hospital-clean, uncluttered shop, building a car called the O.S.C.A., which stands for Officine Specializzate Costruzioni Automobili.
Classic Car Brokerage; we act on your behalf
We buy, sell, broker, locate, consign and appraise exceptional classic, sports and collector cars, arrange transport, customs formalities and registration.
Jaguar, Ferrari and Maserati expertise, though our collection includes a wide variety of other superior motor cars.
Contact us when you are serious about owning or selling a fine classic car. Geneva, Switzerland-based, we serve clients world-wide.
Sold: Cor Dees - Museum Collection of Laverda Motorcycles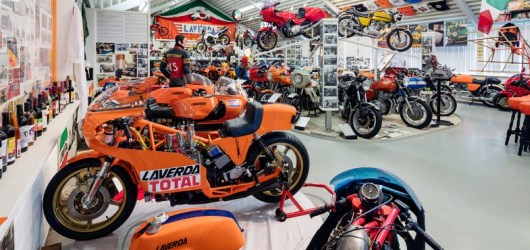 Cor Dees - Museum Collection of Laverda Motorcycles
The entire Museum Collection of Laverda motorcycles and collectibles from renowed collector and marque specialist Cor Dees is now sold.
The collection features 81 motorcycles, scooters and mopeds and covers the complete history of Moto Laverda from 1950 to 2000.
Dees dedication to the Laverda marque has evolved in a second to none display of this North-Italian motorcycle brand. He collected everything related, even artifacts and old machinery showing the agricultural roots of Laverda.
Due to his close friendship with the Laverda family he was able to purchase many of the bikes and associated memorablia directly from the factory. He collected the bikes he liked, and those bikes are significant in the history of Laverda.
Classic & Collector Cars wanted
We have very qualified clients who've asked us to find the following diverse car. Please advise if you can offer any of these cars.
Ferrari 365 GTB/4 Daytona Non plexi
Lamborghini Miura Engine only
Here you will find the complete list of cars we are looking for.
Naturally, we would pay you finders-fee upon successful closure of a deal.