Laverda Project 12 Custom-build one-off Motorcycle by Jean-Louis Olive.
3-cylinder Laverda based one-off
500 km since build
French Registration documents
Registered as Laverda 1200
On request
This spectacular Laverda 3-cylinder on offer is a custom-made one-off designed and created by Laverda Guru Jean-Louis Olive.
Since the closing of the famous Italian Breganze based Laverda factory in 1989, many Laverda followers have tried to imagine what the mighty 3-cylinder Laverda's would have looked like today using modern production techniques and material solutions.
Jean-Louis Olive, lifelong Laverda enthusiast and author of the Laverda Legend 1949-1989, the Laverda V6 Formula 1 on two wheels and most recently the story of the Laverda Raid, a 34.000 km adventure from Tierra del Fuego to Alaska in 1971, decided to built this very bike.
With the help and technical know-how of famous Laverda suppliers Peter Herrmann from OCT as well as Redax engineering, who keep the marquee alive through continuous mechanical support and parts service, Mr. Olive started his massive challenge some 5 years ago.
Build around the potent Laverda 3-cylinder air-cooled engine which evolved from the 1971 EICMA Prototype through the 3C, Jota, RGS Corsa and until the SFC in 1985, he envisioned a lightened and strengthened, more powerful no-nonsense racer while maintaining the overall concept of the original 1000.
Most of the modifications are designed by JLO himself and created especially for his P12XX project, while specialist components are carefully selected high-quality products sourced from the international custom-bike industry.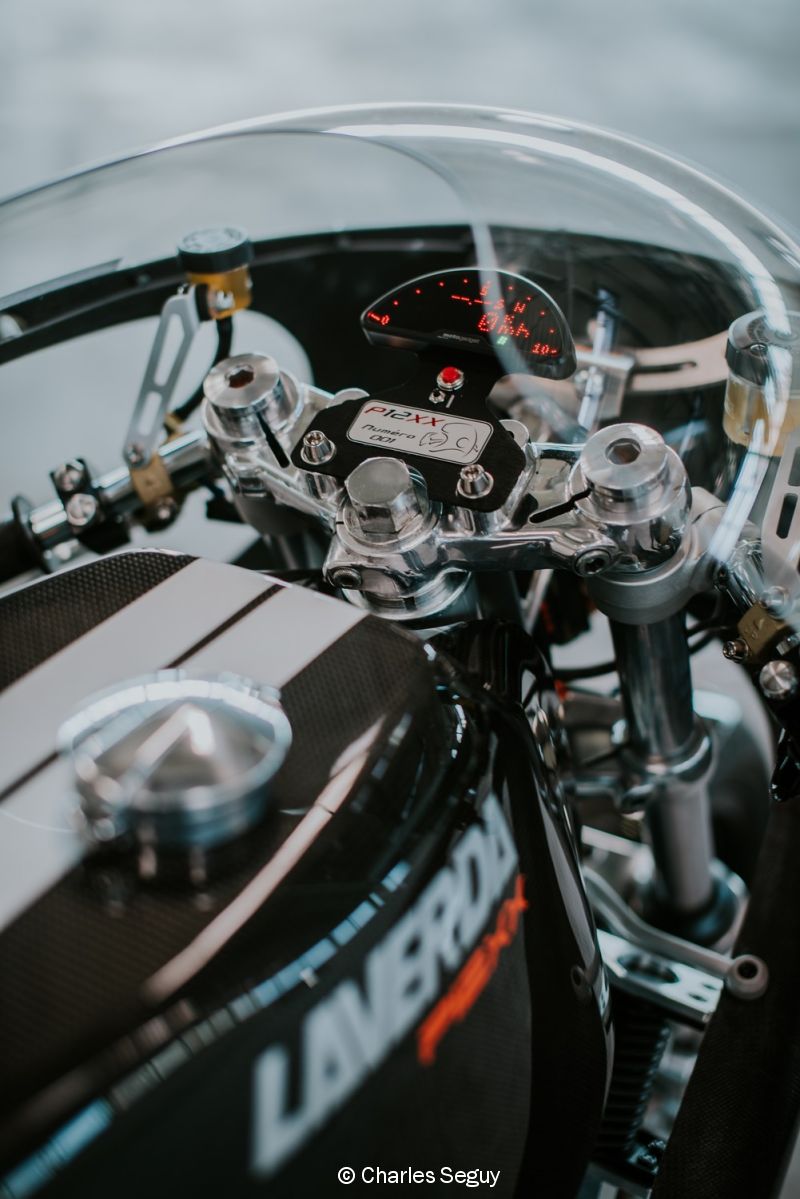 Parts have been flown in from all over the world: Brembo Hydraulics, Carillo Conrods, Ross Racing pistons, Ohlins shocks, Verlicchi Clip-ons and Tarozzi foot-pegs to name a few.
The 180-degree engine has been bored-out to 1061cc and is fitted with high compression Ceramic-coated pistons, a unique RGS TTF1 cylinder head, C4 racing camshafts and larger diameter waisted stem valves.
Fuel delivery is tailored by three Mikuni flat slide RS36 carburetors while the complete laser-cut and TIG welded titanium and stainless steel conical diameter exhaust system has been developed with the help of BURN Stainless USA based on the new engine internals.
Modern electrics include a fully programmable Ignitech TCI-P4 ignition as well as Motogadget electronical components all fed by a powerful 320W Nippon-Denso alternator and Deka gel battery.
The frame has been reinforced at the headstock and around the swingarm pivot for overall stability whereas all unnecessary bracketry was removed. The swingarm pivot itself is made of TA6V Titanium. A fork brace helps to enhance lateral stiffness of the front forks.
Lighter Suzuki GSXR wheels with Bridgestone 110/140 tyres, powerfull Brembo 310mm front- and 200 mm rear brakes and modern suspension elements are fitted. Even the spindles are made of lightweight Titanium in order to reduce unsprung weight to an absolute minimum.
The typical 70's Bol d'Or race look has been achieved by using made to measure Kevlar reinforced carbon fiber bodywork from Boba including a 750 SFC style seat and a modern fuel and ethanol resistant petrol tank with Monza filler-cap as well as a Sulzbacher type fairing.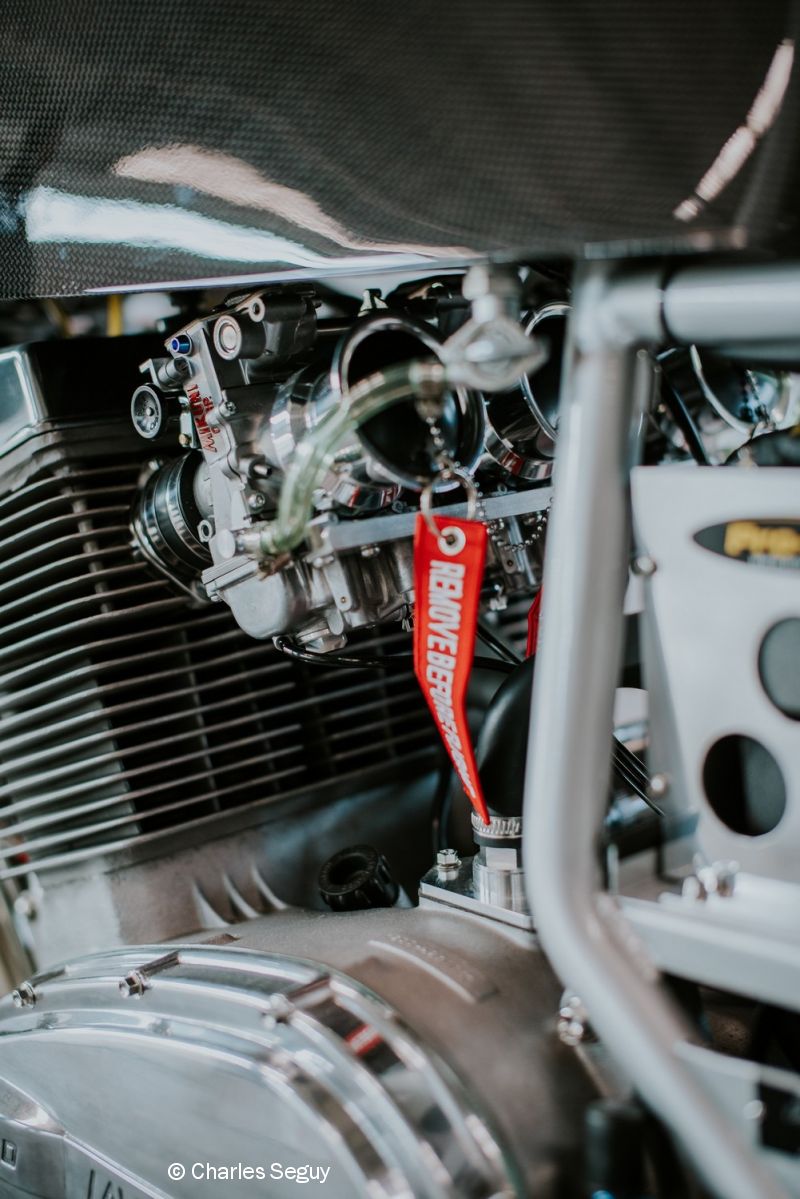 Wheel adapters, the hydraulic clutch housing, camshaft blocs, velocity stacks and several other components are tailor-made Peter Herrmann, Redax and Steel Dragon CNC machined parts. Bolts, fasteners and fittings are aerospace quality aluminium, stainless steel or titanium by Pro-Bolt USA.
Every single part and every modification has been carefully considered in order to create this truly unique handmade Laverda. No money or effort has been spared to build this beautiful machine.
The result is a stunningly 30% more powerful and an almost 60kg lighter motorbike compared to the original last built 1981 series II 180-degree Laverda 1000 Jota.
Since the completion of the bike, renowned motorcycle builders and enthusiasts have been discussing this custom motorcycle and magazine articles have been published in Practical Motorbike, Classic Bikes, Iron & Air, Ferro, Roadster, RAD, Moto-Magazine and Gens du Sud.
This unique concept is consigned for sale by Mr. Jean-Louis Olive himself and comes with a French Laverda 1200 registration document delivered on July 1980. The bike is visible in the South of France with easy access from Marseille airport.
Given a thorough detail and personalised mechanical service upon delivery, this Laverda will represent a certain invitation to many of the world's great concourse, and with 2019 being the 70th anniversary of the Moto Laverda brand, one could hope for no more a unique and custom-made example of such an iconic model than this.